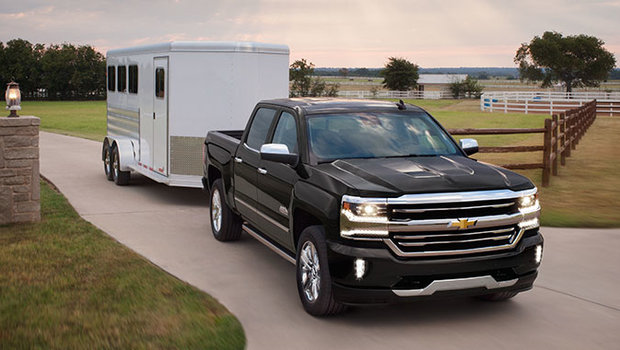 Consumers are increasingly demanding of their trucks, which is why manufacturers make sure to offer more and more technology, comfort, refinement and, of course, power when designing a new generation of their full-size pickup truck.
The perfect example is the 2017 Chevrolet Silverado 1500, a truck that offers three equally muscular engines in addition to being equipped with the latest connectivity and safety technologies.
2017 Chevrolet Silverado 1500: Three Engines to Serve You Better
The 2017 Chevrolet Silverado 1500 is offered with a choice of three engines that impressively combine power and efficiency. The first engine is a 4.3-liter V6 that develops 285 horsepower and 305 lb-ft of torque. A quick look at this engine shows that it offers both fuel economy and performance, and that its payload and towing capacities will be able to meet the majority of consumers' needs in this segment. In other words, the new Silverado 1500's V6 engine is not just there to reduce the starting price of the model.
Then we get to two V8 engines, the first of which is a 5.3-liter that develops 355 horsepower and 383 pound-feet of torque. This engine is able to tow up to 11,500 pounds. The other option is a 6.2-liter V8 that develops an impressive 420 horsepower and 460 lb-ft of torque. This engine is paired with a six- or eight-speed automatic transmission, depending on the version. It is also able to offer the best towing capacity of its segment with 12,500 pounds!
State-of-the-Art Technologies in the 2017 Chevrolet Silverado 1500
There is no doubt, the 2017 Chevrolet Silverado stands out on several levels starting with its powerful engines. But Chevrolet also knows that consumers use their trucks on a daily basis, and that they therefore also want to have state-of-the-art connectivity and comfort technologies.
The Chevrolet Silverado stands out at this level by offering exclusive technologies such as the OnStar program which offers roadside assistance and a host of other services that make life easier for the owner. You also get a series of driver assistance systems as well as a spacious and comfortable cockpit.
To learn more about the new 2017 Chevrolet Silverado 1500, contact us today at 440 Chevrolet Buick GMC!